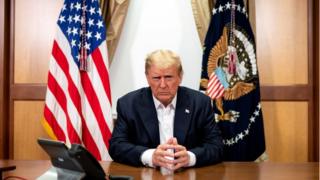 President Trump's treatment for Covid-19 has spawned baseless rumours and conspiracy theories – about body doubles, oxygen tanks and more.
Many appear to be politically motivated and conflicting information from the White House over the weekend hasn't helped.
Officials gave varying answers on when the president had been given oxygen. Unanswered questions remain over when Mr Trump tested positive.
This left the internet to fill in the gaps with unfounded speculation. Here are some of the most viral rumours – and what we know about them.
Deliberate infection and 'body double' conspiracy theories
Republican supporters – in some cases tweeting from verified accounts with hundreds of thousands of followers – have spread a baseless rumour that the president was somehow deliberately infected with Covid-19 at some point during last week's debate.
This goes well against the tide of early evidence showing that several top officials who have been infected, all attended a White House event announcing Mr Trump's supreme court nominee, held several days before the debate.
Meanwhile, the suggestion that Mr Trump tested positive earlier than was originally suggested has led to rumours that he's more ill than doctors have let on – and even that his most recent public appearances were staged with a body double.
Tweets to this effect from accounts mostly supporting the Democratic Party accumulated thousands of retweets.
"Body double" conspiracy theories are fairly common – in 2016, similar allegations were hurled at the Democratic nominee, Hillary Clinton.
These bikers aren't praying for President Trump
A video which claims to show bikers praying for President Donald Trump outside the Walter Reed Medical Center in suburban Washington isn't from this weekend, and wasn't even filmed in the United States.
The clip, shared more than 25,000 times on Twitter and viewed over 1.3m times, was uploaded onto video-sharing platform TikTok on Friday.
However, detective work by fact-checking website Lead Stories, verified by the BBC, reveals that the video was actually shot in South Africa and shows bikers protesting against farm murders.
The original clip was uploaded to TikTok on 29 August, and comparison with Google Street View shows it was shot outside the Union Building in Pretoria.
'Secret' oxygen tank rumour
Another rumour being spread suggested that the president was wearing a secret oxygen tank when he was seen leaving the White House on Friday.
A number of accounts supporting the Democrats circled close-up images of Trump claiming they could see he was hooked up to some kind of device – and using it as evidence that the White House was downplaying how ill the President really is.
Like the baseless claim that Joe Biden was wearing an ear piece to help him during last week's debate – which was used by Trump's campaign in a series of Facebook adverts – this particular rumour appears to have been started by people getting overly excited by folds and creases.
But even if he wasn't toting a hidden tank, we do now know that the president was given supplemental oxygen at several points over the weekend.
Rumours that the President is pretending to be ill for votes continue to spread online, pushed by some high-profile opponents of Mr Trump.
And at the extreme fringes, some QAnon supporters have gathered outside the hospital. They are pushing the baseless conspiracy that Trump is "pretending" to have Covid-19 in a bid to trick the "deep state" and have powerful people arrested.
Analysis
By Marianna Spring, specialist disinformation and social media reporter
How can you spot disinformation on your social media feed when there are conflicting messages coming from the top and various political agendas online?
1) Think about bias. Why was a post shared? Remember, this is happening during a hotly contested election.
2) How does it make you feel? Big news events can lead to worry, confusion, panic and anger – especially when those we would expect to inform us are not doing so. Pause before sharing.
3) Interrogate the source. Where has a post come from? If something is unconfirmed or there's no evidence to support it, it's often better not to share potential misinformation.
Trump isn't "making money" from Covid coins
Coins commemorating "Donald Trump defeating Covid" on sale from an online outlet called the White House Gift Shop have no connection with the US President.
Much-shared but false posts on social media suggest that President Trump is selling the $100 (£77) coins to make money on the back of his diagnosis.
In fact, the White House Gift Shop has nothing to do with the President nor the Trump family. The website came to our attention in May when it sold coins "commemorating" the Covid-19 outbreak, and a BBC Reality Check investigation found it was not an official product.
The store was set up in 1946 by President Harry S Truman in the basement of the White House, but it was subsequently transferred to a private company which now holds the "White House Gift Shop" trademark.
Written by Kris Bramwell
With reporting by Upasana Bhat, Alistair Coleman, Christopher Giles, and Olga Robinson.
Subscribe to the BBC Trending podcast or follow us on Twitter @BBCtrending or Facebook.
False coronavirus claims and rumours about Trump